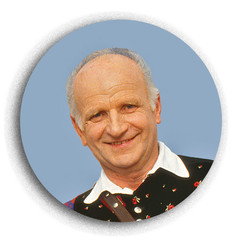 Lojze Slak
Diatonična in kromatična harmonika
Lojze Slak was the founder and the idea leader of the Lojze Slak Ensemble, and above all a virtuoso on the diatonic accordion and the author of many national-entertainment songs.
He was very successful as an author since he created 531 compositions and as musitian as he proposed improvements in the making of diatonic accordions. He became a legend of folk music in Slovenia and triggered a wave of enthusiasm for learning the diatonic accordion in Slovenia and among Slovenian people in the USA and Canada.
The turning point in his music career was in 1957, when he performed as a solo accordionist on the public radio show Pokaži kaj znaš! (Show What You Know!). In 1963 he has participated in the competition of new ensembles at the Ljubljana Exhibition and Convention Center with the song Domači vasici, which became Slak's first major hit overnight. In 1964, he met the vocal quintet Fantje s Praprotna on Radio Ljubljana, and with their merger he created one of the best and at the same time the most original folk ensembles in Slovenia.
(July 23, 1932, Jordankal - September 29, 2011, buried in Šentvid near Ljubljana)